Windows 10 experiences a number of errors, including error 0x80070032. Several users have reported encountering error code 0x80070032 in different Windows applications, most commonly in the Windows Mail App. This error can give you an unpleasant Windows user experience.
Fortunately, you can resolve this error and continue using your PC without any glitch. You'll find it easy to follow the steps to fix Windows error 0x80070032.
Pro-Tip: Download Outbyte PC Repair software to quickly identify and fix many Windows issues.
Quick Fix Instructions
Step 1:
Download the installation file
Step 2:
Install PC Repair and scan your PC
Step 3:
Click "Repair" to fix all items that may be causing the issue
Total downloads:
1.300.000+
Compatibility:
Windows 10, 8, 7
What is Windows Error 0x80070032?
The Windows error 0x80070032 is a system error that occurs in different locations, and usually after a Windows update.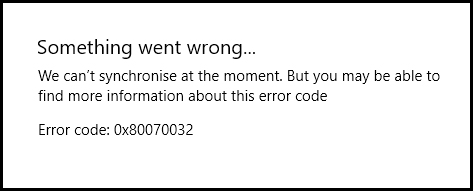 Users have expressed encountering error code 0x80070032 when trying to use different Windows systems and applications:
Some people, especially Windows phone users, have reported experiencing Windows error 0x80070032 when they install the Windows Mail App; i.e., "We can't synchronize at the moment … Error Code 0x80070032."
Some users say that error code 0x80070032 occurs when they try to activate the Automatic File Backups setting; i.e., "Windows could not get a backup service on your computer… the request is not supported. (error 0x80070032). Close Windows backup and try again."
Other users encounter error 0x80070032 when they try to set an external hard disk as the backup location.
Error 0x80070032 can also occur when you're upgrading your OS from an older Windows version to Windows 10.
Error 0x80070032 also occurs when Windows phone users try to access the camera app, especially users of Lumia 540 devices.
As seen, error code 0x80070032 occurs in a number of places and with a number of Windows applications. It is a common error for Windows phone users, particularly those using the preview version.
What Causes Windows Error 0x80070032?
Usually, error 0x80070032 arises when the user account (of a phone) fails to sync properly with Microsoft servers. This is when most users see the error, especially when they open the Mail app or the phone camera. Other causes of the error include:
Windows registry failures
Errors in the Windows filesystem
File corruption in the Windows system or files
Conflict between Windows applications
Misconfiguration
Virus and malware infection
How to Fix Error 0x80070032 in Windows 10
Use the following solutions to fix error 0x80070032 in Windows 10 and make your device work properly.
Fix #1: Scan Your Computer with an Antivirus
One of the potential causes of errors in Windows 10 is malware or virus infection. The solution is to scan your computer with a quality antivirus or antimalware program that can remove tough malware algorithms.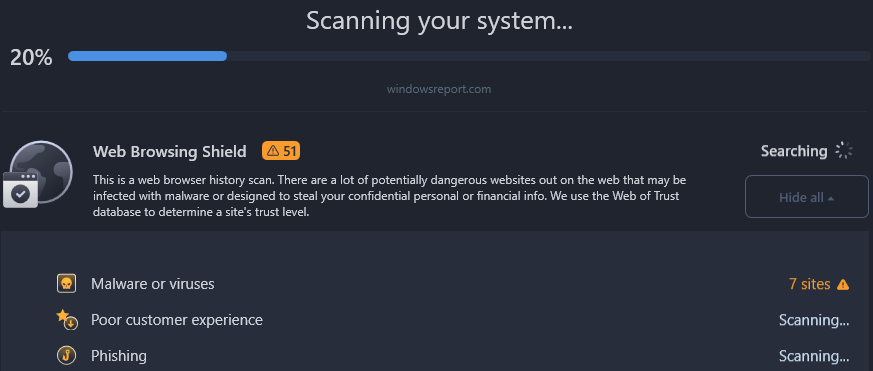 Fix #2: Download and Install Windows System Updates
Many cases of error code 0x80070032 occur due to a bug in Windows 10. If this is the case, go to the Windows Update screen in Settings and check if there are updates that need to be installed.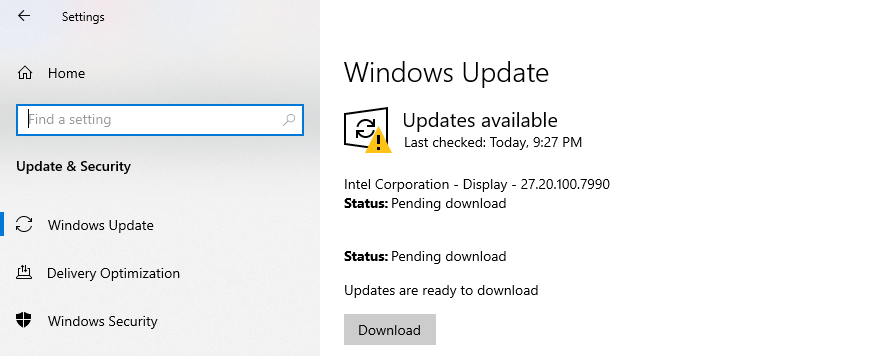 Once you download and install the updates, Windows should be able to resolve the error automatically. Restart your computer to enable the changes to take effect.
Fix #3: Run the Windows Update Troubleshooter
If you're experiencing error 0x80070032 when Windows is updating or upgrading, your best solution is to run the Windows Update Troubleshooter. This is a built-in Windows repair tool that can resolve PC update issues automatically. To run the Windows Update troubleshooter:
Press Win + R to open up a Run dialog.
In the Run dialog box, type ms-settings:troubleshoot then press Enter. This will open the Troubleshooter screen in Settings.
In the Troubleshooter screen, locate and click "Additional troubleshooters".

Click "Windows Update" and "Run the troubleshooter".

Wait for the application to run to completion and identify the errors and their fixes.
If prompted, click "Apply this fix" to fix the error automatically.
Restart your computer to effect the changes and see if you were able to fix Windows error 0x80070032.
Fix #4: Switch to a Microsoft Account
If you can't sign in to your Mail app, perhaps switching to a Microsoft account from a local account can help you fix the error.
Switch from a Microsoft account to a local account:
a. Open Settings.
b. Go to Accounts > "Email and accounts" (on the left pane).
c. Now click "Add an account".


d. Type your current local account details, e.g., your email and password.
e. Tap on Next then click "Sign out" and Finish.
Switch to a Microsoft Account:
a. Open Settings.
b. Go to Accounts > "Your Info".
c. Click "Sign in with Microsoft account instead".


d. If prompted, type the password of your local account.
e. Next, enter the details of your Microsoft account (username and password) then click Next.
f. Now, click Switch to switch back to your Microsoft account.
Once you're done, try again to use the Mail App and see if you were able to correct error 0x80070032.
Fix #5: Remove the NGC Folder's Contents
Use this process if you were unable to log into Windows 10 using your PIN. You'll need to sign in to your account and remove the NGC folder's contents. But before that, you need to take ownership of the folder.
Log into Windows 10 using your password.
Press the Win + X keys then choose File Explorer from the list.
Open Command Prompt as an administrator: Press Win + S. Type cmd. Choose 'Run as administrator' below Command Prompt. Type (or copy & paste) the following commands (Press Enter after each command to run it):
takeown /f C:\Windows\ServiceProfiles\LocalService\AppData\Local\Microsoft\NGC
icacls C:\Windows\ServiceProfiles\LocalService\AppData\Local\Microsoft\NGC /grant administrators:fNow, try logging in with your PIN or create a new PIN:
Go to Account Settings and choose Sign-in Options.
Select 'Add a PIN' for setting a PIN then follow the on-screen instructions.
This process should enable you to access your Windows 10 computer using the PIN service.
Note: we advise that logging in using a PIN works best with an internet connection. You need to ensure that you have a working and stable network connection.
Wrapping Up
If all these processes don't work, you can try reinstalling the Mail App or other apps where the problem is occurring. We believe that these steps should help you fix the Windows error 0x80070032. If you have any feedback, please let us know through the comments section.