Users of Outbyte software products have an advantage over other software brands. They can call or chat with a live tech support agent and get any PC issues resolved remotely, even if those issues are not related to the Outbyte product they are using. All this is made possible with the help of Outbyte Live Support – a 24/7 live assistance service that comes included with Outbyte software licenses.
Today, we are going to ask some questions to a representative of Outbyte Live Support and find out how this service helps PC users around the world and how exactly it works.
Question: We are talking to Max of Outbyte Live Support. Max is one of the Quality Group leads who has been with Outbyte for 7 years and has solved thousands of problems for PC users from all over the world. There are currently 8 technicians on his team, ensuring the best service for users of Outbyte software.
First of all, what is Live Support? What does the service do?
Max: Just as the name suggests, Live Assist is a service that provides live remote assistance with all sorts of computer issues. Users contact us with anything from minor things like problems with opening a certain file type to major problems like a BSOD or hardware failure.
Live Assist comes included with Outbyte software license subscription. Users can contact us for help with getting their computers set up for top performance without having to take the PC to a local repair shop. Our mission is saving people time and money, and making the world a better place, one happy PC user at a time.
Q: You mentioned that you provide assistance remotely. What does that mean?
M: Our technician connects to the user's PC remotely, runs diagnostics on the machine and gets the issue resolved. The technician sees your PC screen as if they were right there, in front of your computer. They can click and type as if their mouse and keyboard were plugged into your PC.
Q: How do you connect to remote PCs? Is it safe?
M: It is totally safe. We use a special browser-based app – Zoho remote support software, https://www.zoho.com/assist/ – that lets us establish a secure connection with the user's PC. The user stays in control at all times, can watch everything the technician does on their computer, and can terminate the session anytime by clicking just one button.
And what's also great about Outbyte's Live Support service is that the user doesn't need to worry about our agents trying to sell anything to them. We don't sell any software or service while helping users get their issues solved. Our agents are professional technicians, not sales people. They focus on getting the user's PC fixed and ensuring that the user is left happy with their computer's performance.
Q: What kinds of computer issues do you help with?
M: The short answer is almost any! The range of issues Live Support technicians handle is extremely wide. Users can contact us when they experience any type of glitches or malfunctions on their PCs, when they are simply not happy with how their computer works, or when they need to connect a new device or set up their computer system properly. Think of us as a geeky friend whom you would call with your PC-related questions.
Our team handles an average of 2500 chat requests and 1000 inbound calls per month, resulting in an average of 1100 monthly remote support sessions. 20 to 30% of cases we handle are related to device issues (printer, scanner, Bluetooth, mouse, keyboard, touchpad, monitor, USB issues). Another 20 to 30% are issues related to programs/system operations (BSOD, older programs not working, icons missing from the system tray, problems with installing or updating Windows Store apps – anything related to Windows' or installed apps' functionality). About 10 to 15% of cases are webcam, microphone or sound issues, and another 8 to 10% are game issues. The rest are file access, DLL, network or web-related malfunctions, graphics, memory or other issues.
The thousands of happy users are the best proof that Live Support is doing its job right. Just take a look at these Outbyte user reviews on Trustpilot: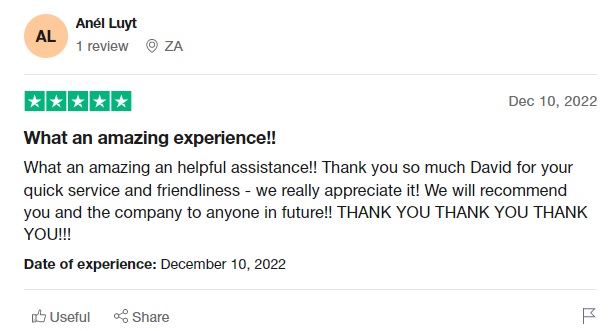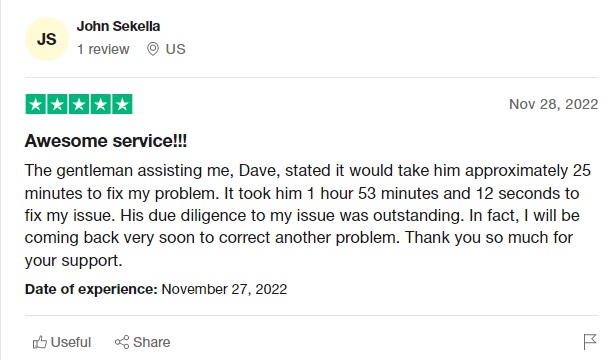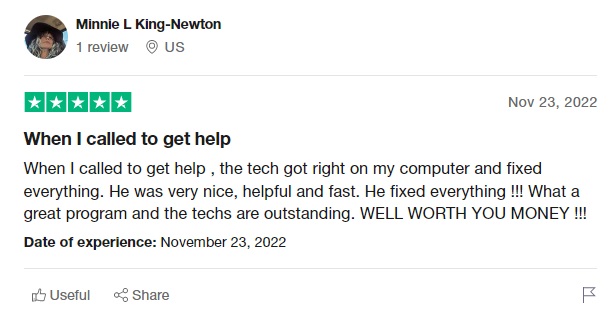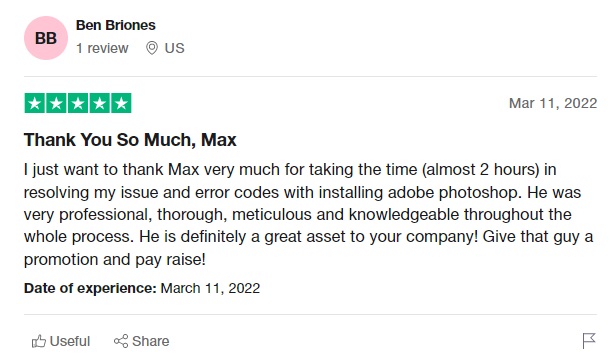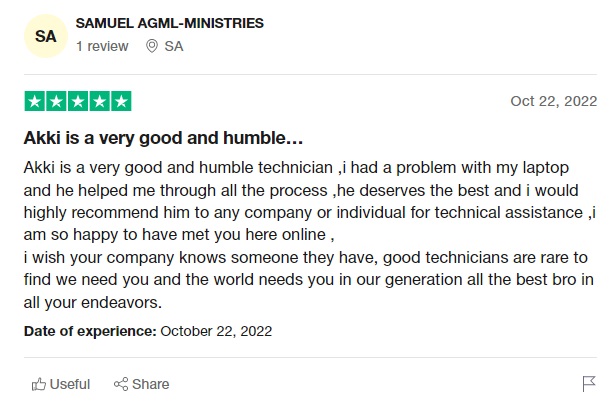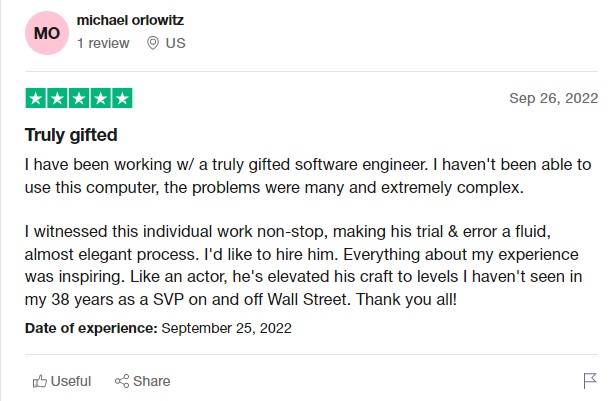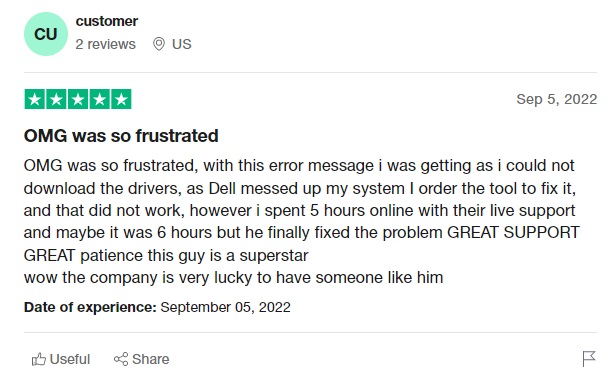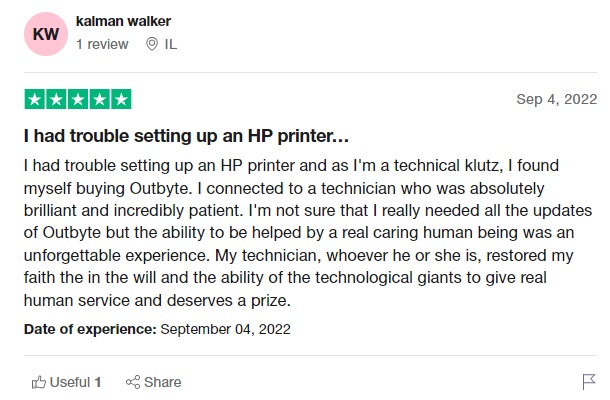 Q: Can you talk about some examples of the most common real cases you've handled at Live Support?
M: Some of the most frequent cases are related to driver problems, but the user is usually unable to identify faulty drivers as the cause by themselves. For instance, a man called us saying that the sound wasn't working on his computer. He had installed the recommended Windows 10 update prior to that, which supposedly updated some drivers too. Microsoft's Troubleshooter did not find any problems, but the audio failed to work.
The user was getting desperate, as he needed his computer for making conference calls from his home office. When he called Live Support, our technician knew right away that an outdated or faulty audio driver was the most likely culprit. He then ran a diagnostic check and first tried updating the audio driver with the standard Windows means, which didn't help. The agent then fully uninstalled the driver and reinstalled the correct stable version, which solved the no sound problem and made the user happy.
While running diagnostics, the technician noticed a couple of issues with other device drivers on the customer's computer, asked if the customer wanted those taken care of as well, and got those additional drivers safely reinstalled. The user was absolutely happy with the result, especially considering that he didn't have to pay for the repair or spend any money on getting his PC replaced.
Q: Besides driver-related problems, what other cases do customers contact you with?
M: We often get calls or chat requests from users having trouble launching an application. It may be an Office program, a game or some other app. I remember a case I personally worked on, when a lady called saying that she couldn't run MS Word on her computer. It was night time in her time zone, she took some work home and needed to finish a document by the morning. She was actually quite emotional as that file absolutely had to be done by the morning. Instead of an open Word window she was getting a popup with error 0xc0000142 and couldn't do anything about it. I knew from experience that the error was most likely due to a corrupted Windows update installation or an outdated MS Office version. I checked for the most common causes of this error, identified that Word was faulty and ran repair of the application's files. The whole session took a little over 20 minutes and the customer was able to use Word right away. So, I can boast that I actually saved someone's career now.
Q: That's quite a story! And what do gamers contact you about?
M: Game issues aren't that rare among the cases we get to work with. One example – we've had several customers who contacted us because they couldn't run Minecraft. They got an error that said "The driver does not appear to support OpenGL". OpenGL (Open Graphics Library) is an application programming interface that works as a bridge between the programs and graphics hardware used to play Minecraft. A frequent cause of this error is, again, corrupted or outdated graphics drivers, but it could also be outdated Java files, unnecessary mods, or misconfigured in-game settings.
For some users installing the latest graphics driver updates has helped, for others we needed to disable OpenGL for Minecraft. Some cases required Java to be updated, graphics settings to be modified in the game, unnecessary mods disabled or shaders removed from Minecraft. As you can see, one problem may require totally different solutions on different computer systems.
Pinpointing the cause may be hard, but our technicians have the experience and skills needed for that. And we don't give up that easily either. We work on the customer's PC for as long as it takes to get it fixed or until we have tried every possible solution.
Q: When can users contact Live Support for help?
M: Outbyte software products are used all over the world, in over a dozen time zones. Which is why Live Support technicians are available 24/7. Users can call or chat with us at whatever time is convenient to them, be it night or day.
Q: How often can users contact Live Support technicians?
M: Currently, 2 weeks of unlimited Live Support service come free with each Outbyte software license purchase, as well as with every license renewal. Users may contact support as often as they need during the two weeks. We are monitoring user feedback and constantly improving our service to meet the demand. More options for Live Support plans may become available in the future. If you feel that you might need regular help or maintenance beyond the initial 2 weeks, you can always purchase an unlimited live support plan.
Q: That sounds great! How much does it cost?
M: As I've already mentioned, Live Support comes free for 2 weeks with every new Outbyte software license purchase or renewal. If that's not enough, you can upgrade to one of the paid plans. For instance, the option that's most popular with our customers is the unlimited 3-month plan that costs $34.95 and lets you call or chat with support anytime 24/7 during the three months.
Considering the cost of repair services at a local computer shop, this is a small amount to pay for around the clock service that you get without even leaving your home.
Q: Can we compare the price of your service to the cost of taking a PC to an offline repair shop?
M: We have actually been keeping stats of approximate repair costs reported by users based in the USA and different European countries. We found that the average expenses you may expect when seeking offline help from a local technician or repair shop are USD 20 to 40 per session for PC diagnostics, and USD 50 to 200 for PC setup, optimization, virus and malware cleanup, depending on location and complexity of repair. Sometimes there are additional malfunctions that are discovered in the process and that may require additional charges, which may not be included in the original quote.
And you also have to keep in mind that getting your PC repaired locally may require you to physically take it somewhere or have a technician come to your place. Either way, that means even more expenses and more time you have to spend whenever you need your computer fixed.
With that in mind, you can see that the savings you get with Outbyte Live Support can be quite significant. Especially considering that with Live Support there is no limit on the number of issues that can be fixed during the subscription period.
Q: Some Outbyte software users may be apprehensive about contacting Live Support. This whole idea of having a technician service their computer remotely may seem too complicated or even scary. What can you say to those who haven't used Live Support services yet?
M: Many of our users felt that way at some point, but they have all found that using Live Support is a lot simpler than they had expected. Having an agent connect to your PC requires a couple of very intuitive clicks. The app we use for that observes strict security standards, and our agents follow special privacy guidelines. So, there is absolutely nothing to be worried about, and the benefits you get from professional live help far outweigh any effort it may take you to get connected. Especially considering that the effort required is next to none.
Another reason to contact Live Support is the savings you get over contacting a local service center. Users get to keep their older PCs for a lot longer and can actually enjoy using them after they get fixed and optimized by our techs.
Our technicians get to work with a lot more cases than any local repair shop would. Add to that the training and certifications they receive, and it becomes clear that our guys are often more qualified and better equipped to handle the most complex issues a PC user may encounter.
Q: Thank you very much for your answers. So, if someone wants to use Live Support services after reading this interview, they can just get a license for any Outbyte software product and contact live support for help anytime within the first 2 weeks, right?
M: Yes, that is correct. If the software doesn't solve the issue, or if there are other issues the user needs assistance with, we are always happy to provide professional help.